Podar is a growing network with a wide spectrum of schools for every level from pre-primary schools i.e kindergarten, primary schools, secondary schools, and even colleges. To add to that, Podar also specializes in teacher training courses through the Podar Institute of Education. Having one of the richest legacies of any educational group in India, Podar's 95 year heritage comes with  a stellar record of having National CBSE and ICSE toppers across the years. Apart from the national level boards, Podar is known among the best schools in International Baccalaureate (IB), Cambridge (CIA) and even state boards.
Podar Jumbo Kids is the early childhood division of this education behemoth and makes for a trusted name in the education space in shaping the future of our nation since 1927. Being one of the best pre-schools in India, Podar Jumbo Kids offers the best of early childhood education and a holistic approach to give your little one an amazing learning experience and 21st century skills. Choose one of the best preschools in India, Podar Jumbo Kids, for the many reasons stated below –
Developmentally appropriate and Neuroscience backed learning – The Early Years Foundation Stage (EYFS), the United Kingdom's preschool pedagogy used at Podar Jumbo Kids emphasises age-appropriate, holistic development, with a focus on each child's communication and language skills, creative expression, physical, self, and social development. Brain growth is at its fastest at this age and play, language, and exploratory activities are used to promote healthy brain growth. The age of 2 – 5 is when the child's brain builds curiosity, the fundamental building block in exploring their environment, making sense of the world around them and engaging in positive social interactions with peers. The focus is on emergent techniques from the early years, as well as the deliberate acquisition and comprehension of knowledge, skills, and ideas in reading, numeracy, global awareness and understanding. The Podar Jumbo Kids pedagogy  fosters children's inherent curiosity and desire to learn, resulting in the development of problem-solving, inquiry, research, discovery, and active hands-on exploration abilities.
Brain Researched Content – The Podar Jumbo Kids curriculum is a perfect combination of Montessori, Play Way, Reggio Emilia, Glenn Doman, and the Rudolf Steiner approach. It is built on Kiducation philosophy, which nourishes children in stress-free environments of growth that are developmentally suitable for each child. The child is never forced to learn, instead they are taught how to learn and make it an enjoyable and rewarding experience. The child is taught why the sky is blue, not just that it is blue. A toddler has around 86 billion neurons (brain cells) making millions of synaptic connections every second. However, the amount of brain cells has little bearing on useful intelligence. Rather, the amount of connections produced between these brain cells determines the child's ability to cope with, and solve problems in their life. These ties are built by the events and experiences offered at Podar Jumbo Kids to children during their formative years.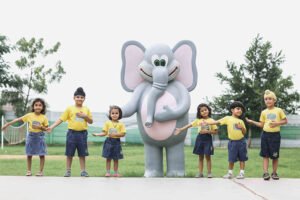 Development of Future ready skills –  At Podar Jumbo Kids, the endeavour is to equip children with future ready, 21st century skills of resilience, leadership, creativity, collaboration, communication and critical thinking. Children are digital natives and are taught how to leverage the optimal use of technology. State of the art visualizers,  iPads, and simulation based virtual game software such as "Technowiz" and "Nayi Disha" are regular features at Podar Jumbo Kids centres. Every child has a unique learning style and some are more adept at learning through auditory, while others through visual, and others through kinaesthetics. Children learn best on their feet, and not only on their seats, and with this philosophy children are encouraged to be children! By running around, skipping, dancing, jumping etc, children release the feel good hormones like dopamine and endorphins, which result in better brain absorption capacity of the learning content. The focus is on learning outcomes, rather than knowledge input.  The motion-based learning technology "Nayi Disha" includes games and lesson plans based on Howard Gardener's idea of intelligence, which assist youngsters in learning through their preferred learning methods. The lesson plans are curated with meaningful storylines that help students engage emotionally. Through their cute cartoon companion, Kaju, children learn letters, numbers, and general information through motion-based activities, which makes learning entertaining and engaging.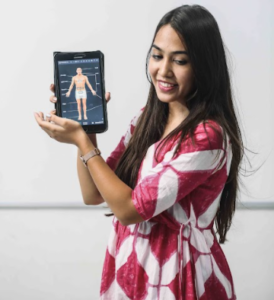 Your kids deserve the best of education and nurturing. At Podar Jumbo Kids, the children are the center of the universe and all activities and efforts are designed to revolve around them.
Do keep in mind the most important factors when selecting the best playschool in India for your child.